It is in His name that we pray. It is to His glory that we play.
Focused on faith and character development, Orange Lutheran Athletics seeks to pursue victory while bringing honor and glory to God. As part of the nationally recognized Trinity League, Orange Lutheran is known for its long history of athletic excellence across 27 athletic programs for student-athletes. Since 2010, over 400 college-bound student-athletes have signed National Letters of Intent to continue their athletic career at NCAA and NAIA schools. Orange Lutheran alumni have competed at the professional level in the MLB, NFL, NBA, and national teams. Additionally, alumni have represented Team USA at the 2008, 2012, and 2020 Olympics.
BY THE NUMBERS
Average Student-Athlete GPA
Students signed to colleges since 2010
Alumni playing professional sports
Strength.
Speed.
Mobility.
Three full-time Sports Performance Coaches and a 5,500 sq. ft. training facility deliver a strength and conditioning program that rivals collegiate offerings. Our individualized approach means that each athlete receives advanced data analysis and a customized training program to foster power, strength, speed, and mobility. Tailored profiles establish baselines, track progression from year to year, and provide comparative data so athletes can understand their physical role within the context of their team. Our Sports Performance Coaches use these critical data points to develop a foundation with each student-athlete and help athletes grow into advanced levels of performance as they continue their athletic careers.
Injury prevention is a core component of our Sports Performance philosophy, but when injuries do happen, our Sports Performance staff work closely with our three full-time Athletic Trainers, who help athletes rehab, recover, and safely return to play. Our state-of-the-art athletic training facility enables athletes to receive immediate attention and professional care without leaving campus.
An Unparalleled Athletic Experience
Game Day
Montell Field and the two gyms that comprise the Ellwein Center host multiple teams on campus for practice, conditioning, and games. Orange Lutheran also utilizes local facilities for hockey, tennis, baseball, aquatics, and golf.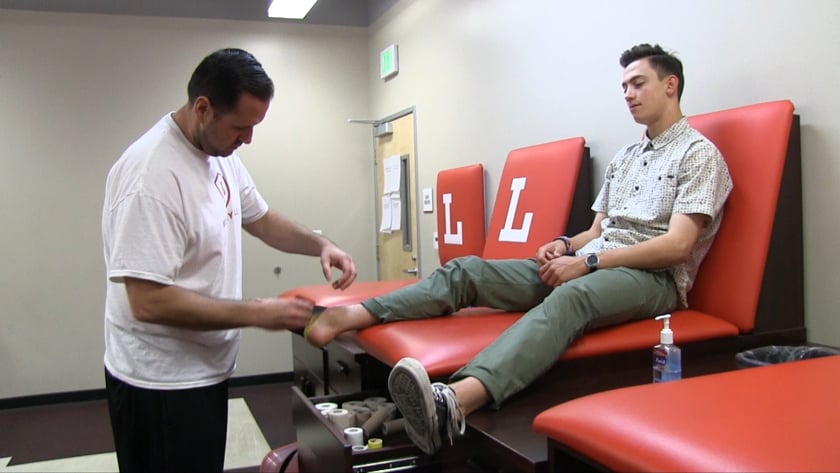 Athletic Training Facility
Recognized as a Safe Sports School by the National Athletic Trainers Association, Lancer Athletes receive the highest level of care by Orange Lutheran's full-time Athletic Trainers. An expansive collegiate-level athletic training room, complete with a temperature controlled whirlpool for ice baths, allows for professionally-guided injury prevention and recovery care.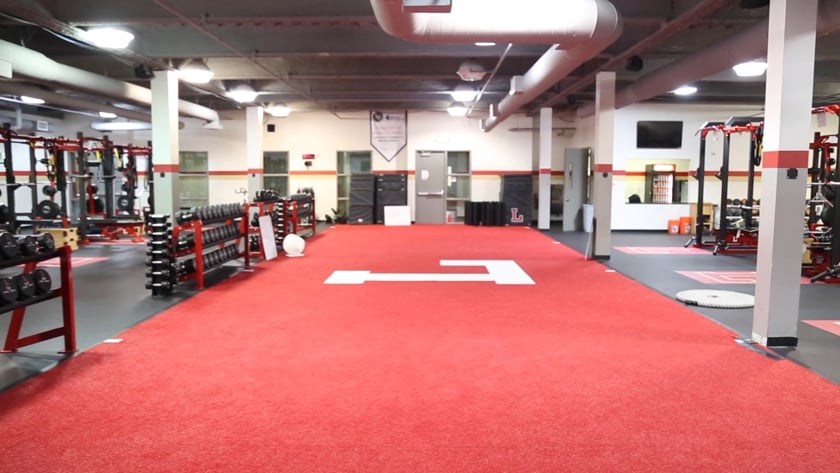 Sports Performance Training Center
Designed to ensure the health and safety of our athletes, the Performance Training Center offers an unparalleled athletic experience. State-of-the-art training equipment, individualized lifting stations, and a fully-stocked nutrition center help student-athletes achieve peak performance. Additionally, personalized athletic software and iPads located throughout the weight room allow our entire coaching staff to maximize and monitor each athlete's performance and development.

Teams & Programs
Orange Lutheran athletes are guided by a highly qualified team of head and assistant coaches, Sports Performance coaches, and certified Athletic Trainers. Many of our current head coaches have been named CIF Coach of the Year, and some have worked with USA national teams and have coached at elite camps both in the United States and abroad.